One bowl wonders.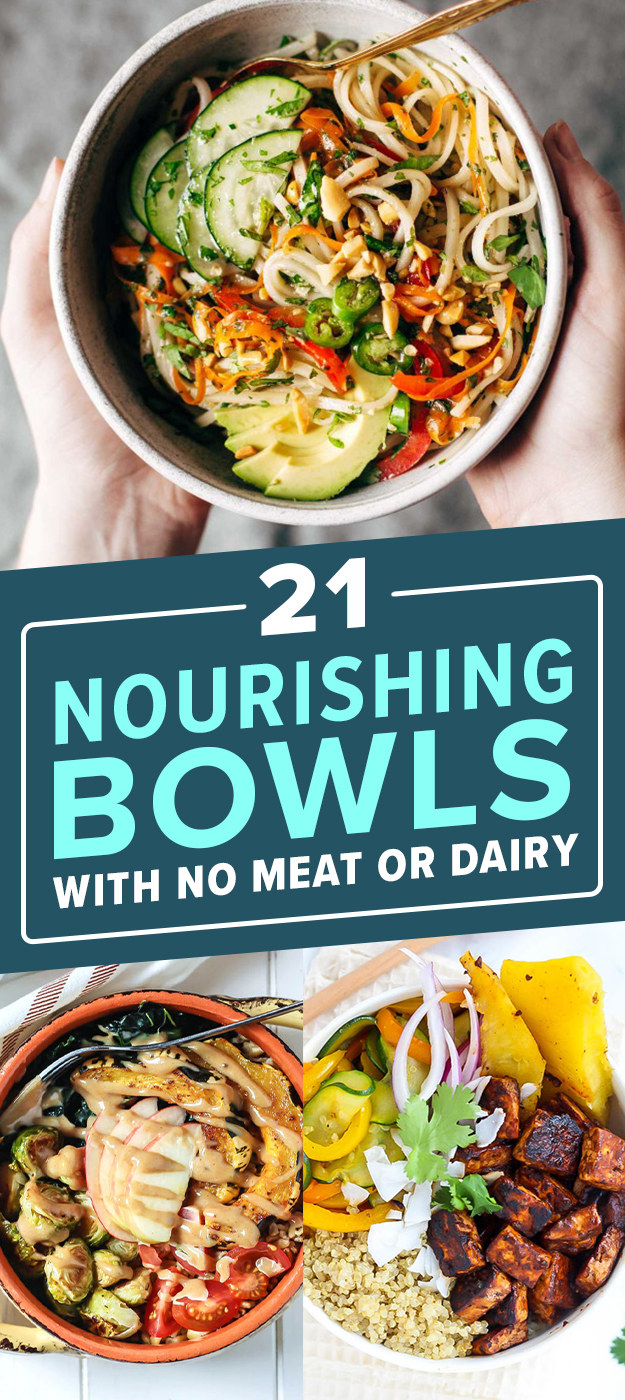 Harissa Veggie Bowl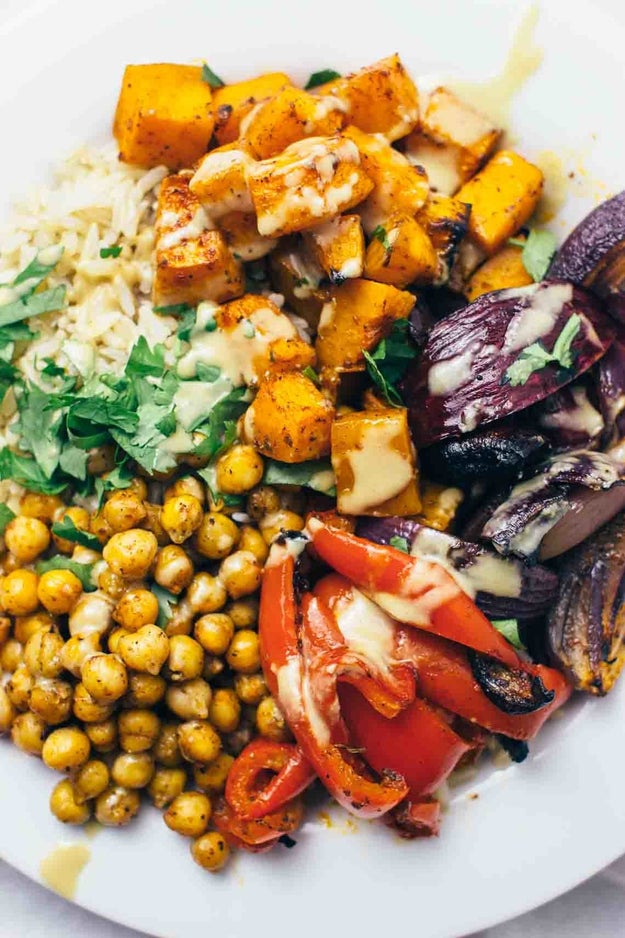 Roast your favorite veggies such as butternut squash, onions, and peppers with a drizzle of harissa, red wine vinegar, and olive oil. You may never want to eat vegetables any other way. Get the recipe.
Jar of Lemons / Via jaroflemons.com
Spring Roll Bowls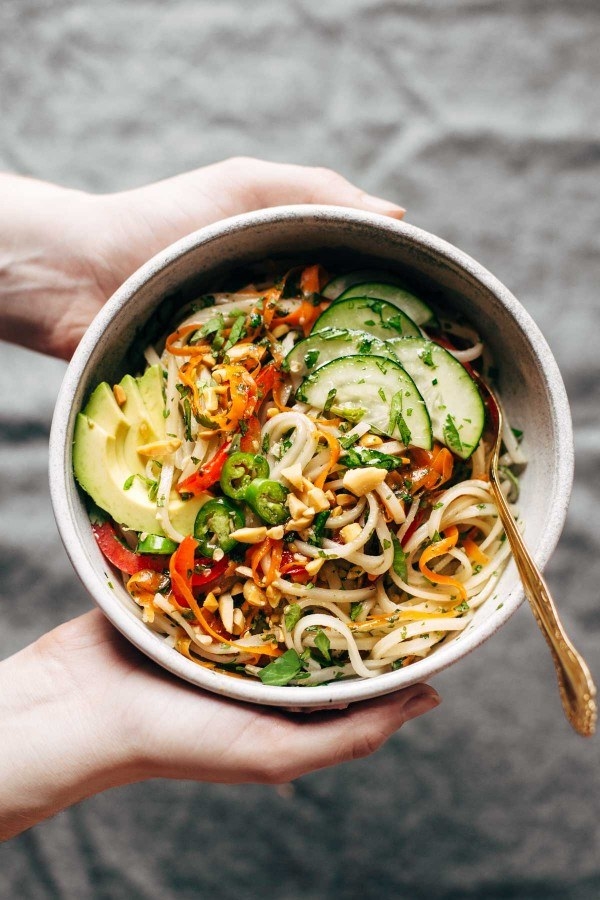 You can add any protein (like tofu, if you're cutting back on meat), and any of your favorite veggies to this Asian-inspired rice noodle bowl. Get the recipe.
Pinch of Yum / Via pinchofyum.com
Enchilada Power Bowls with Spicy Tofu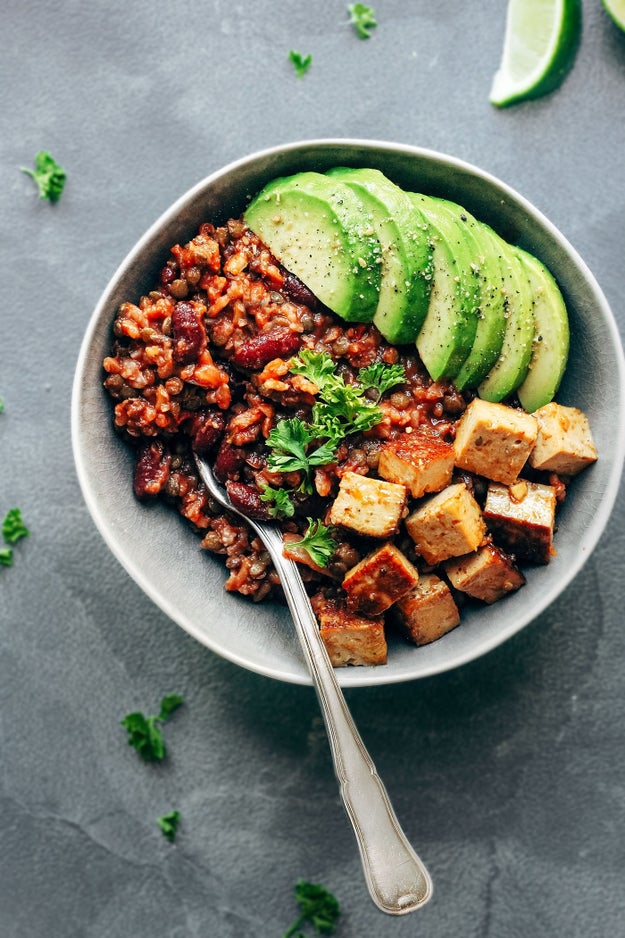 These deconstructed enchiladas are made with black beans, green lentils and rice in a creamy chili-cheese sauce. Get the recipe.
Full of Plants / Via fullofplants.com
Fit Mitten Kitchen / Via fitmittenkitchen.com
Greek Veggie Bowls with Hummus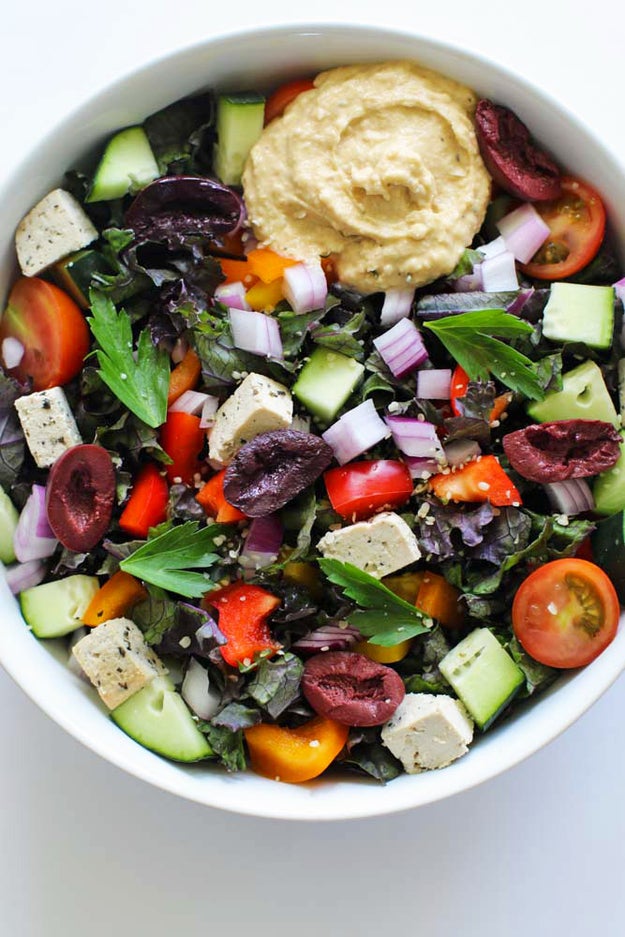 You can whip up this colorful veggie bowl in about 10 minutes. It may be simple, but it's full of flavor. Get the recipe.
Peaceful Dumpling / Via peacefuldumpling.com
Southwest Quinoa Power Bowl
This better-for-you version of a burrito starts with a quinoa base. Then, add all your favorite Tex-Mex toppings like black beans, avocado, bell pepper, and sweet potato. Get the recipe.
Fit Mitten Kitchen / Via fitmittenkitchen.com
Zucchini Noodle Breakfast Bowl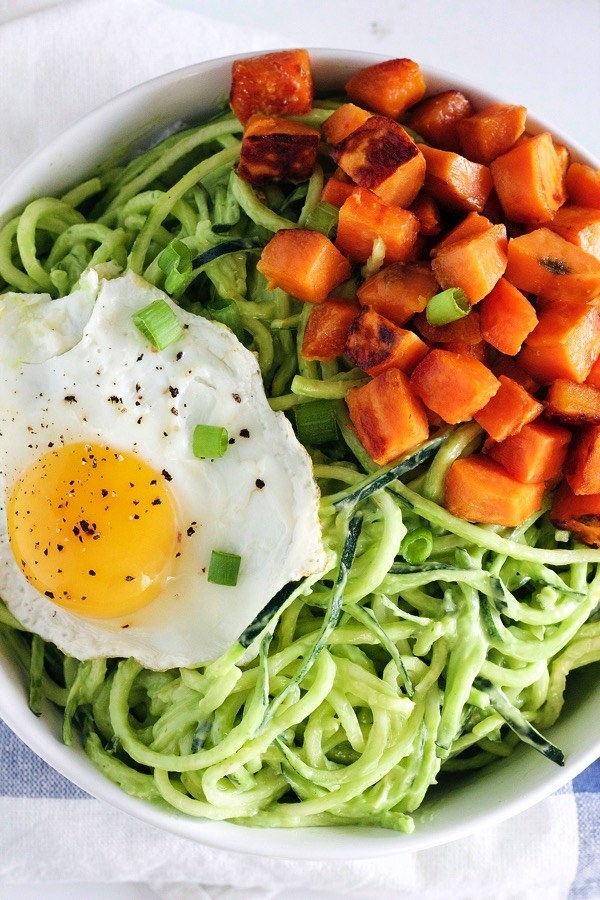 Healthy breakfast pasta really exists. Top these zucchini noodles in avocado cream sauce. If you're vegan, skip the fried egg. Get the recipe.
The Almond Eater / Via thealmondeater.com
Peanut Tofu Buddha Bowl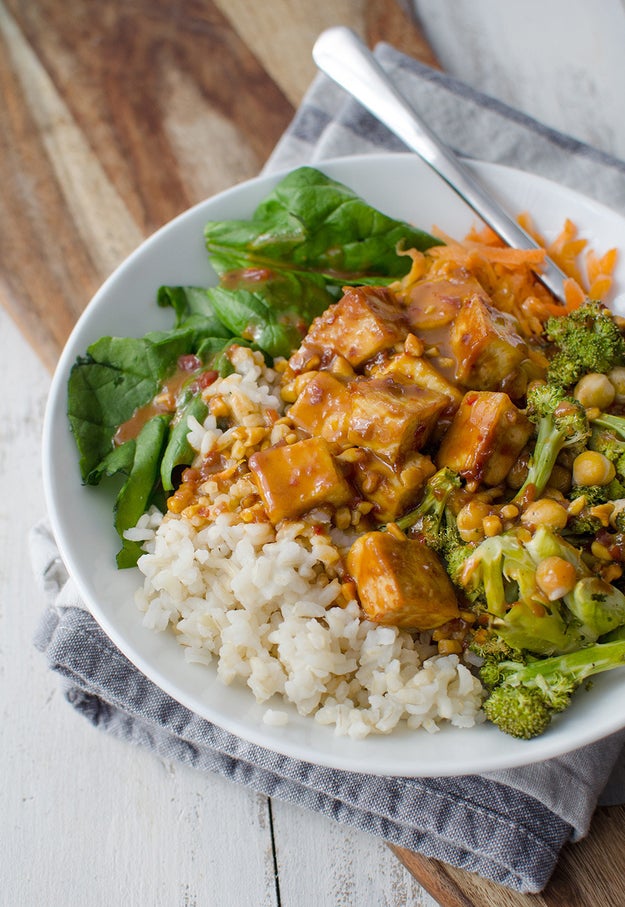 Make a big batch of this peanut sauce made with toasted sesame oil, soy sauce, maple syrup, chili garlic sauce, and chunky peanut butter: You're going to want to put it on absolutely everything. Get the recipe.
Delish Knowledge / Via delishknowledge.com
Quinoa Breakfast Bowls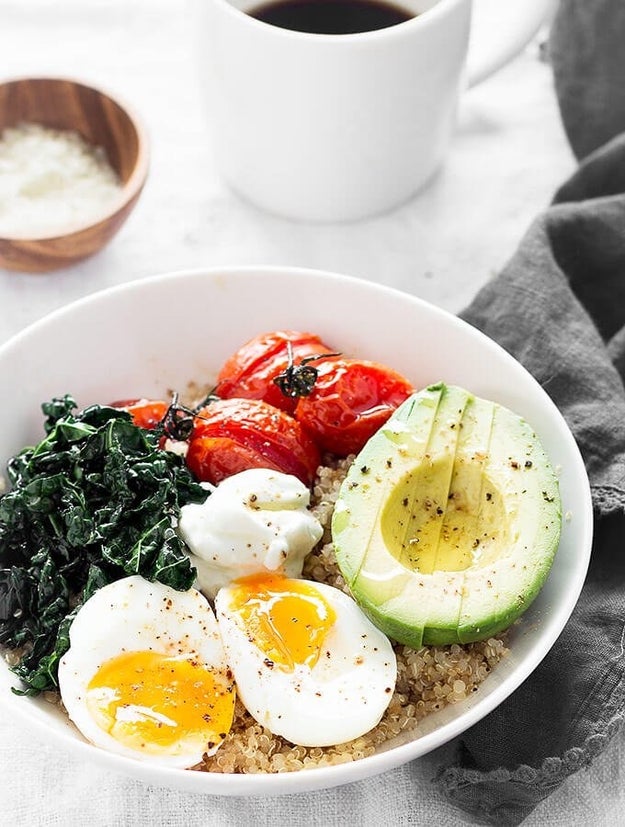 Start your day off right with a heaping bowl of quinoa, kale, and blistered tomato. For some extra protein, you can also add your favorite kind of eggs. Get the recipe.
Easy As Apple Pie / Via aseasyasapplepie.com
Beet "Poke" Bowls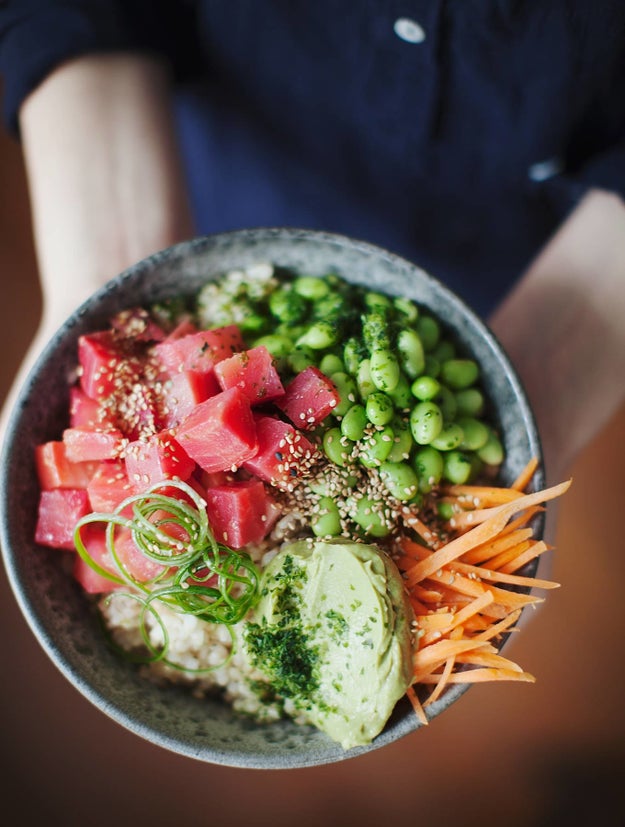 There's no raw fish in these "poke" bowls. These colorful concoctions are made with brown rice, edamame, ginger-marinated beets, julienned vegetables, and a drool-worthy avocado wasabi cream. Get the recipe.
My New Roots / Via mynewroots.org
Quinoa Power Bowl with Hummus and Smoked Paprika Vinaigrette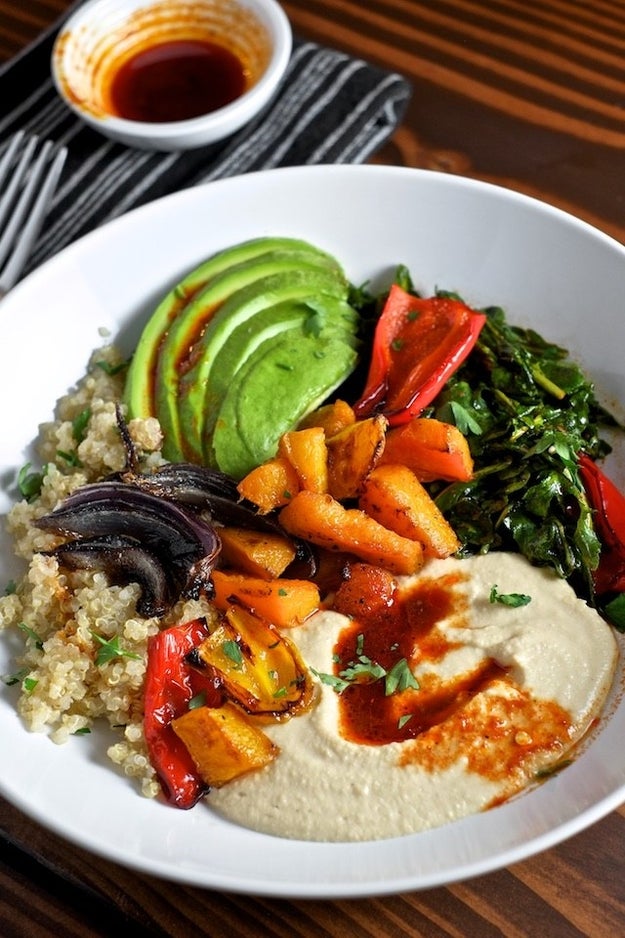 Roasted veggies and warm hummus makes for the perfect, feel-good comfort food on cozy fall days. Get the recipe.
Sweet Salty Tart / Via sweetsaltytart.com
Sweet Potato, Cranberry, and Quinoa Bowl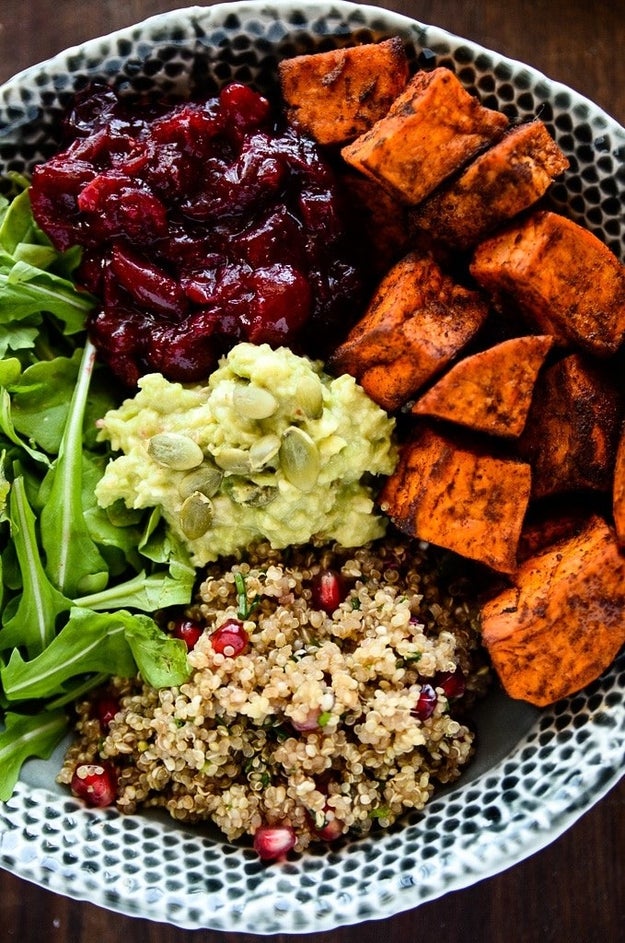 Made with pomegranate quinoa, spiced cranberry sauce, mashed avocado, and sweet potatoes roasted in paprika and cinnamon, it's basically Thanksgiving dinner in a single bowl. Get the recipe.
Blissful Basil / Via blissfulbasil.com
Moroccan Chickpea Bowl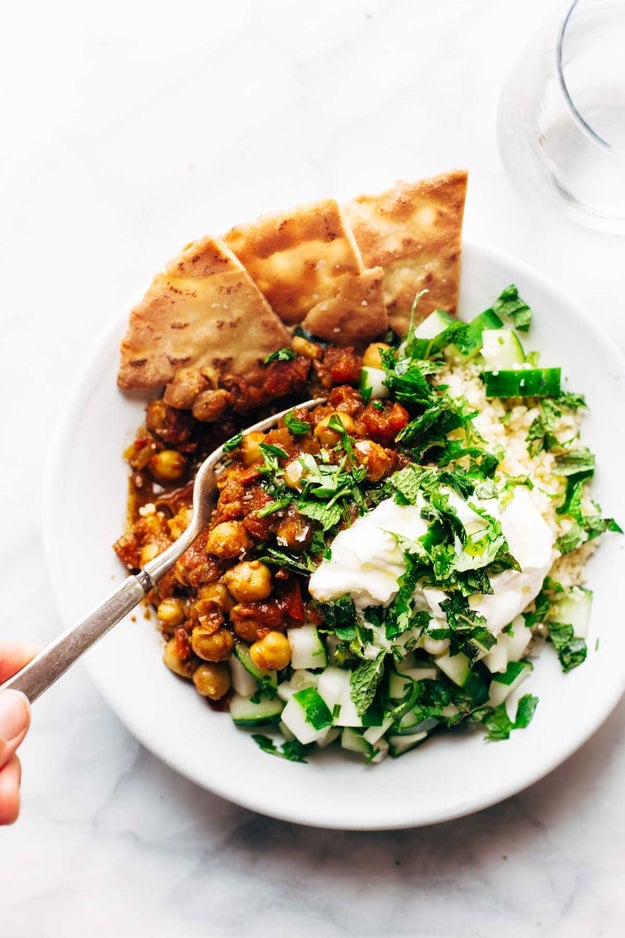 These spiced chickpeas are sauted with onion, chili powder, cumin, cinnamon, cayenne, and fire roasted tomatoes. They might just be your new favorite salad topper. Get the recipe.
Pinch of Yum / Via pinchofyum.com
Sesame Ginger Forbidden Rice Bowl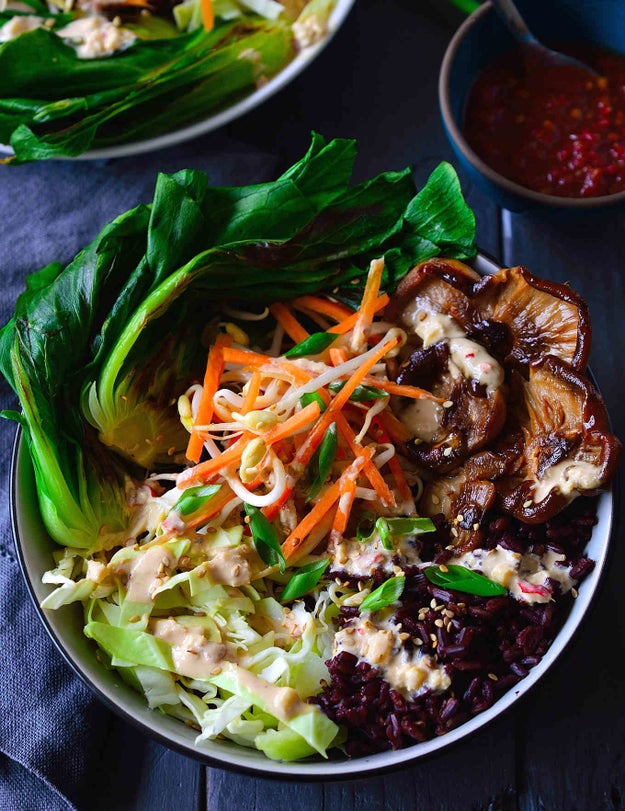 Black rice gets topped with shiitake mushrooms, bok choy, cabage, and carrots. Mix up an easy homemade dressing with soy sauce, rice vinegar, tahini, ginger, garlic, and spicy Sriracha to top it all off. Get the recipe.
The Stingy Vegan / Via thestingyvegan.com
Bali Bowl with Tempeh, Peanuts, and Tomato Sambal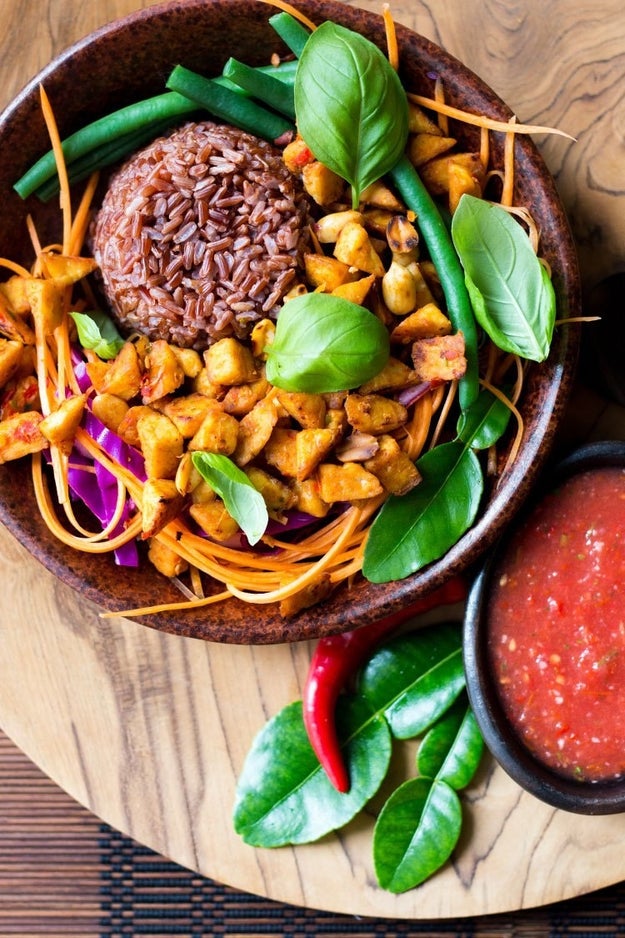 Toss Balinese style fried tempeh onto a base of rice, cabbage, carrots, green beans, and basil. If you don't want to make tomato sambal from scratch, any canned version of Sambal Oelek should do the trick. Get the recipe.
Quite Good Food / Via quitegoodfood.co.nz