Hearing groups of boys go back to back to the soundtrack of Eskimo riddim. Listening to my favourite grime MCs through the fuzzy background of pirate radio. Discussing who spun who on the latest Lord of the Mics – long may the Wiley vs Kano clash live. This was the black British music I grew up with.
Those were the foundations of what we have now. And what we have now is one of the most successful periods black British music has ever seen in the UK. We have artists like Skepta, Stormzy, and Giggs with chart success. Black British artists are making moves in grime, rap, R&B, and everything in between, by being unapologetically themselves.

Black UK music is constantly evolving, and to celebrate this we spoke to eight black British artists and asked them what it means to them.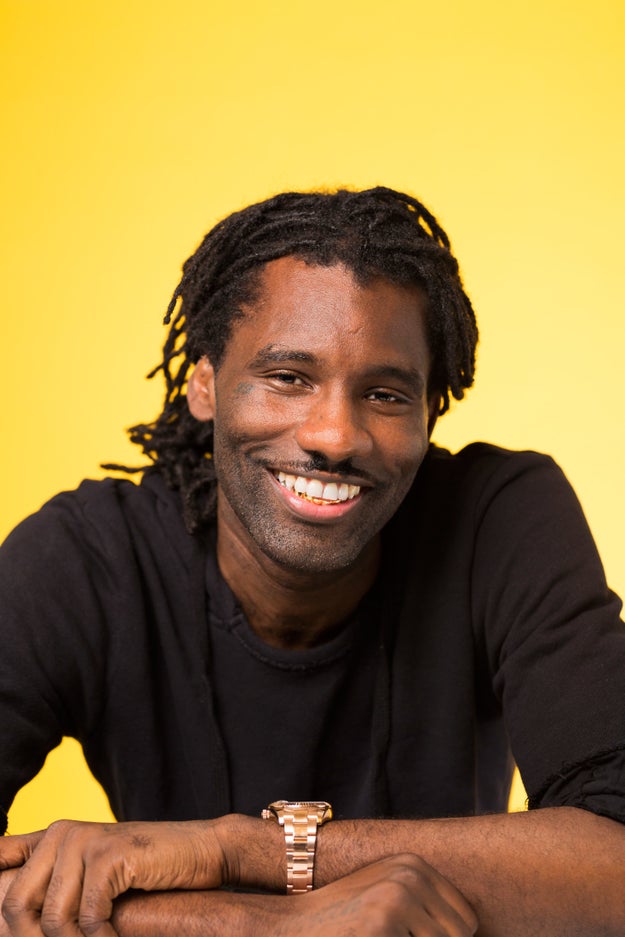 Laura Gallant / BuzzFeed
Wretch 32
Wretch 32 is and has been one of the most important voices in UK music. He has been on the scene since his days as a member of Combination Chain Gang and then The Movement, which included him, Scorcher, Ghetts, and Mercston. "I feel like I have been writing songs longer than I haven't," he says. "I used to write in my mum's front room, and I would not just write raps or bars, I would write a record. It would have a concept – any song that had a 16-bar instrumental I had a song to."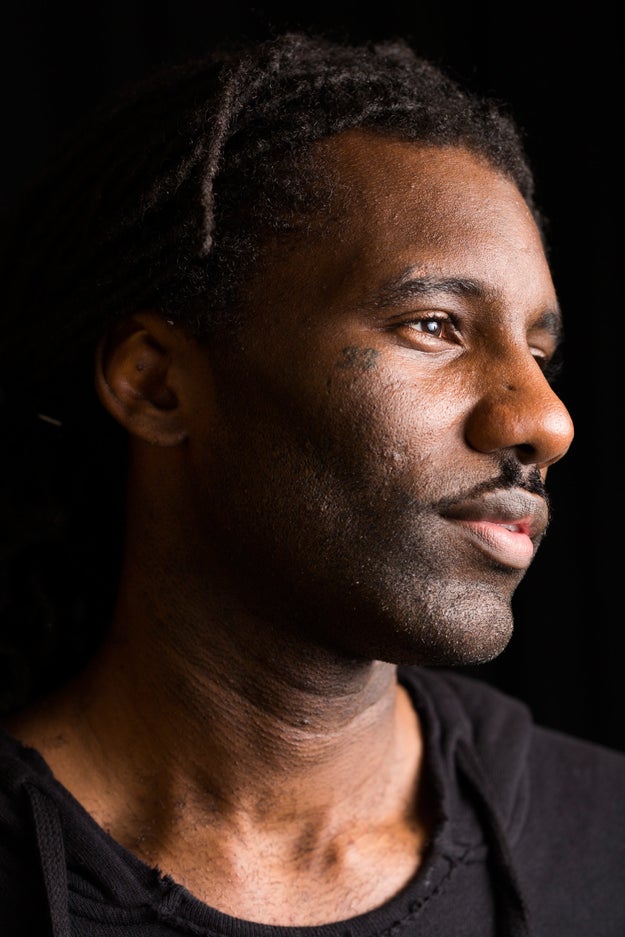 Laura Gallant / BuzzFeed
And it seems these years of writing have paid off. Wretch's talent when it comes to lyrics cannot be denied; he is a rapper's rapper. "I write music that is heartfelt, intellectual, and I would say moving. That can mean dancing on the dance floor, or actually feeling an emotion," he says. "I think my album shows how versatile I am. I am not enclosed with my music. If I feel l like singing, I sing; if I felt like rapping, I rap. I do everything I feel like doing. Because if you're going to be in this industry you need to be comfortable in your own skin."
Wretch lists Kano, Swiss (he wishes he'd written "Cry"), Avelino, Ghetts, J Hus, and Krept & Konan among the many artists he is a fan of. "UK music has always been great but the quality is so much better now. Everyone has got better. The music, the sonics, the engineering, the mix-downs, the writing – everything is better. That's why the light is on us: We are as close to flawless as it gets with our music."

I ask him what he, as someone who has been in the game for a long time, thinks of the wave of new UK artists. "It's good to see new artists pick up from where we left off," he says. "The people who come second get to come first better. They have seen what's happened before them. It's good to see younger versions of yourself. They have learnt new things, and now they are able to be fearless. When I started music I made a lot of mistakes out of lack of knowledge. Artists now understand what road they can walk on, and also they know what to do and what not to do."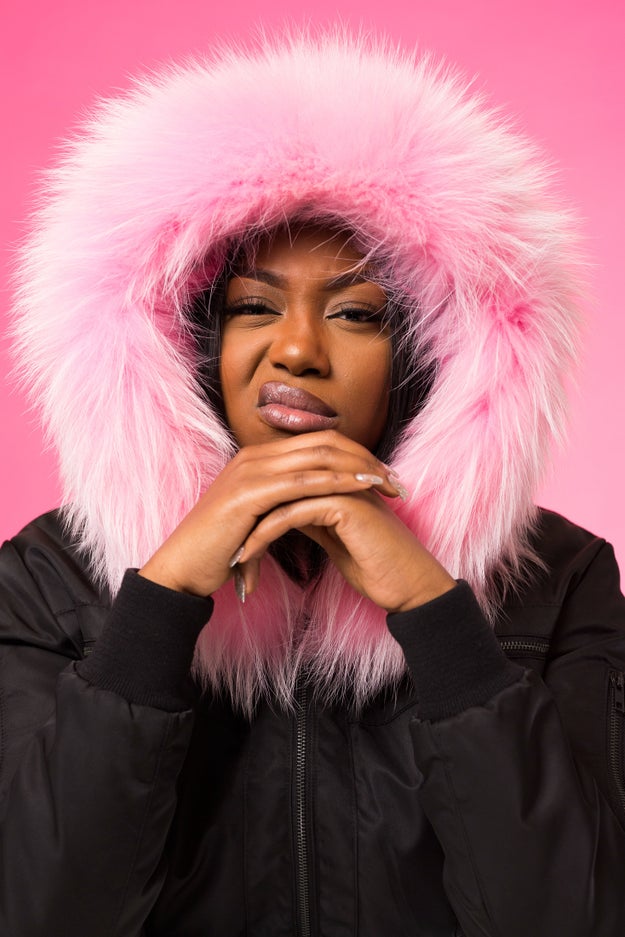 Laura Gallant / BuzzFeed
Ms Banks
Fitted black jeans, black tee, and a smile that reveals her gold tooth: Ms Banks has a swag that belongs to black London girls – south London girls, to be exact. "I am from South, and growing up, we were a little rough around the edges. We would come through in kicks, jeans, a bag from H&M, a New Era hat, and a gold tooth. We had a look, and that reflects in my music. It influences my sound."
Ms Banks, who was introduced to many people through her impressive Fire in the Booth freestyle, has come a long way from the 11-year-old girl who wrote: "T to the Y to the R to the A / When I'm on the mic don't ram, don't play / If you don't like me that's OK / I'm going to beat you anyway."
"OMG, my first bar was so wack. I don't know who I waring at 11," she jokes after she recites the rap to me.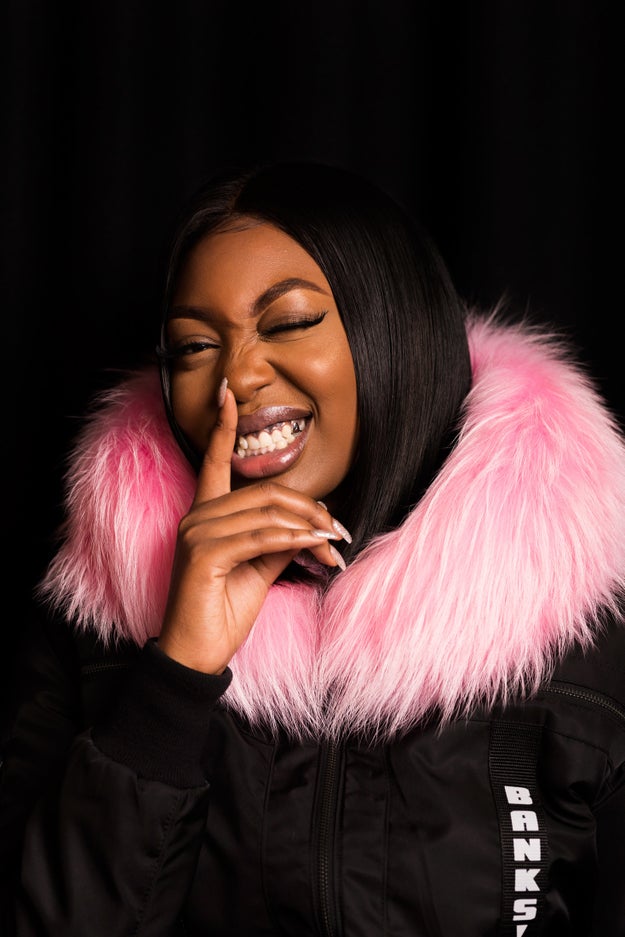 Laura Gallant / BuzzFeed
When I ask her what track she thinks best represents the scene, Ms Banks says: "Giggs, 'Talking the Hardest' – are you mad? That song is too much. Giggs said: 'If you're talking the hardest / Giggs better pop up in your thoughts as an artist (jheeze).' I wish I wrote that, that track is UK music.
"UK music means so much to me. We have people like Wretch 32, who is lyrically brilliant. The music we are making makes me proud of where I come from. I feel like for a long time we have been left out of the international music scene. But now people are realising how dope we are. We've always known how great we are and other people get it now. Everyone wants to work with us, people are inspired by us. I am very proud of the UK music scene. It's taught me to love who I am and where I am from."
Ms Banks brings her own unique sound to the scene. "I'm a rapper, I do a little singing, I do hip-hop, grime, Afrobeats. I like to think of myself as a versatile artist. It's telling my story. I'm a woman in the rap scene and it comes with its pros and cons – being a woman has brought me a lot of attention. When I rap I sound like mandem. It's a bravado: I deliver my bars strong and deep and par up with the guys, but I am still very feminine. Some people still don't credit female rappers. But that keeps me going and it means I have someone new to recruit to the Ms Banks fan club."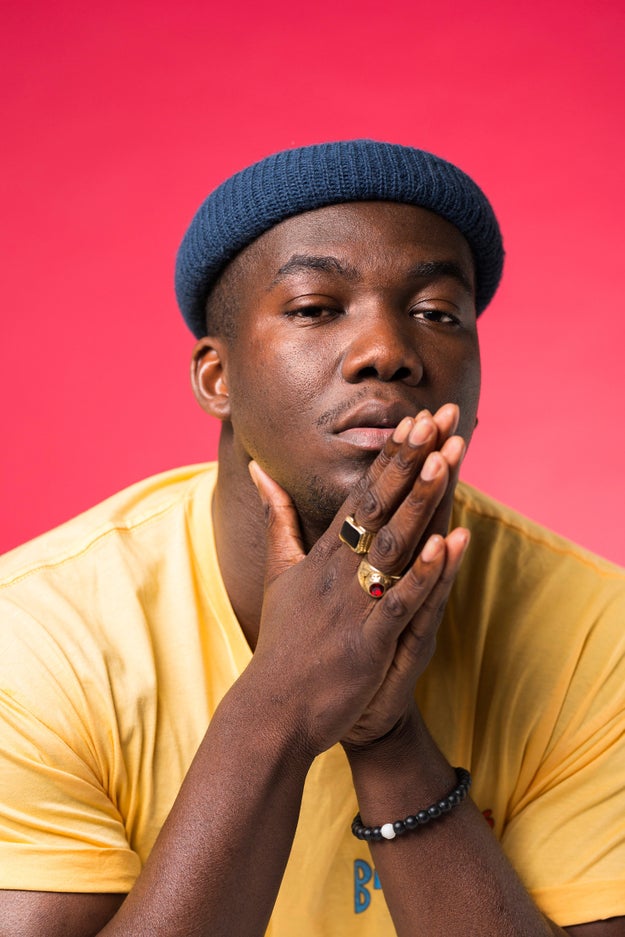 Laura Gallant / BuzzFeed
Jacob Banks
There is a certain calm that comes from being around Jacob Banks. It's a G'd up calm that seems exclusive to him. He is interesting and interested, and leaves you feeling like he could write a song about you. Asked to describe his sound, he says: "I make music, innit. I try not to quantify it, as it's not exactly genre-specific. It's storytelling. I am a storyteller. I ain't shit – none of us are, really. Sometimes as musicians we think we are more than we are. It's a crazy idea to think I can walk into a room and leave with a song that didn't exist before me. I can't be responsible for that. Music triggers memories, something that has happened to me before, a conversation. I want my music to keep people company, like they have a friend in the room.
"I was born in Nigeria and raised in Birmingham, so I have a lot of different influences, and I love Afrobeats. I love Fela Kuti, Lagbaja, and I also love Amy Winehouse. All these things come together and I try to find a home for all of them. There is pride in everything I say and put out. I rep home, I rep the UK, I rep Birmingham, I rep London. Everywhere I go, I take my story with me."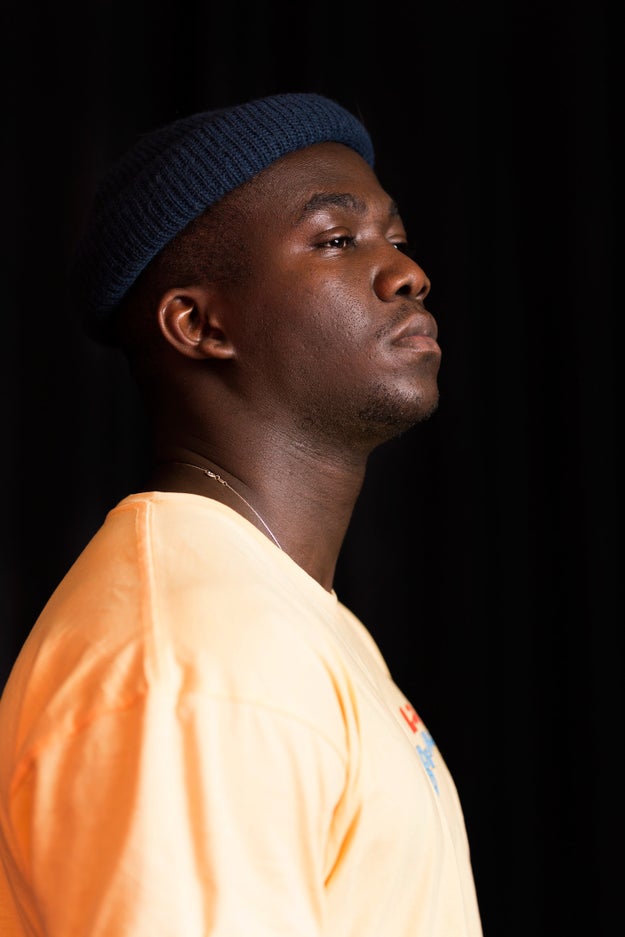 Laura Gallant / BuzzFeed
Banks started music after finishing his degree in civil engineering, a nod to his Nigerian heritage. "I started recording music because my friends would hear me sing and they wanted to play this music in their cars. So basically I just wanted to impress my friends, and I am still making music to impress my friends. I am on tour and I think anyone who listens to my songs and connects to them is someone that I can be friends with."
"For me UK music is the best in the world," he replies when I ask him what he thinks of homegrown music. "I think it's the best because as black British people we are not sold the dream that we can achieve anything we want. Americans are sold the dream that they can be whoever they want to be; Americans gas people. In the UK you are not gassed , so you have to be the best. It's bigger than just the artists. It's the writers, the producers – everyone is weird and wonderful here because we have to be.
"I would say UK Apache and Shy FX, "Original Nuttah" is the perfect example of what UK music is. It's a classic, it's punk, and I think the energy of UK music is punk. The energy of UK music is a big 'fuck you'."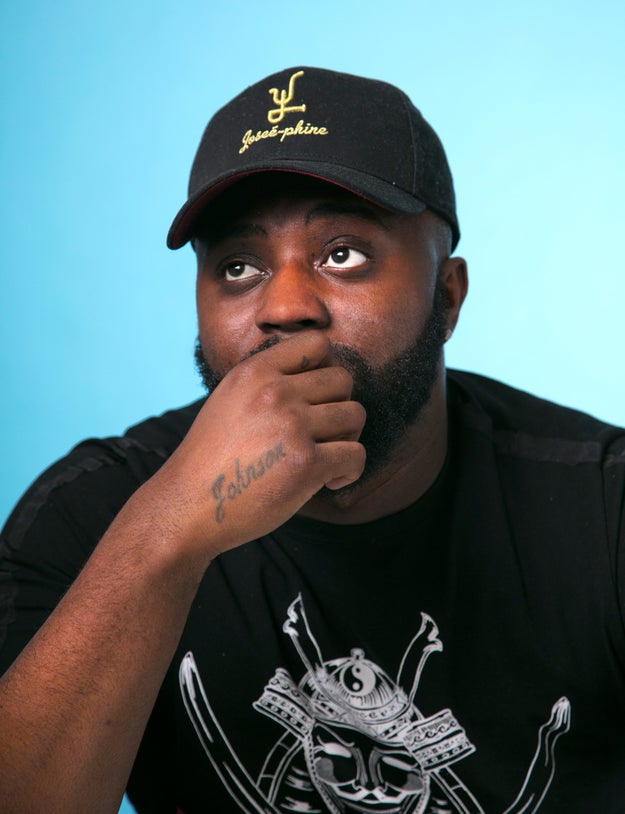 Tim Lane / BuzzFeed
Cadet
Cadet's tracks are honest. He has a knack for making listeners feel things – a skill that makes you tune out the instrumental and really take in his lyrics. "I'm grime artist, that's how I came up. I do honest music, passionate music, just lit music. I have always been known as the guy with bars. And I started taking it seriously three years ago and it's paid off." His songs are equal parts cheeky and emotive. "I write in my car, I listen to the instrumental and write. If I'm in a cheeky mood, I write cheeky. If I'm on an emotional rant, I write emotional. I just stay true to whatever I am feeling."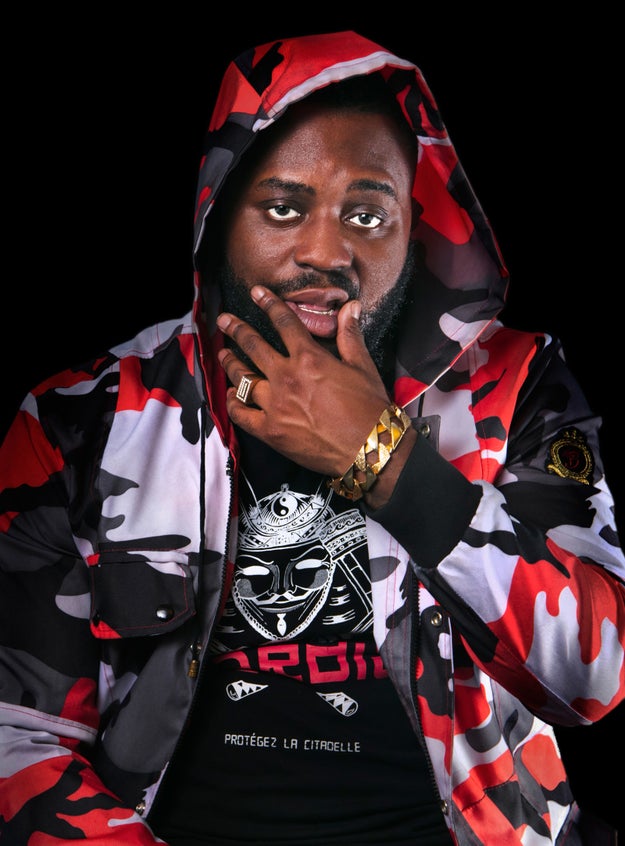 Tim Lane / BuzzFeed
Cadet credits his SBTV Warm Up Session as the moment people really saw his talent. "Platforms like SBTV, Link Up, GRM Daily are essential in the UK scene: They allow you to have a come-up, they break down doors, and introduce people to new artists, and I'm one of them," he explains. "These platforms aside, the internet is also great for the scene. It's so big and wide. It means that different music is not weird any more. There are no weirdos no more, because of the internet. Before the only avenue was gangsta rap, and a conscious rapper had to stay underground. But now you can be rapping about anything, now it's cool. The internet is so wide you can be yourself now. Gangsta grime and road stuff was my introduction to music. That raw essence will always stick with me, but I can rap about other things now."
When I ask about the British scene, he says: "UK artists are doing bits. You have people like Donae'o and Shakka who have trained musical ears. You have Wretch, who is a crazy lyricist, Ghetts, who is filled with energy, and people like Stormzy and Krept & Konan who are consistent and have mad work rate and drive.
"The music we make is ours – we have a sound that is totally ours. The scene is ours, grime belongs to us. The scene is healthy. We have opportunities to become megastars."
When asked what song he thinks shows the essence of UK music, he says: "Stormzy, 'Shut Up'. But I do wish I wrote Kano's 'Brown Eyes' or Swiss's 'Cry' – all bangers."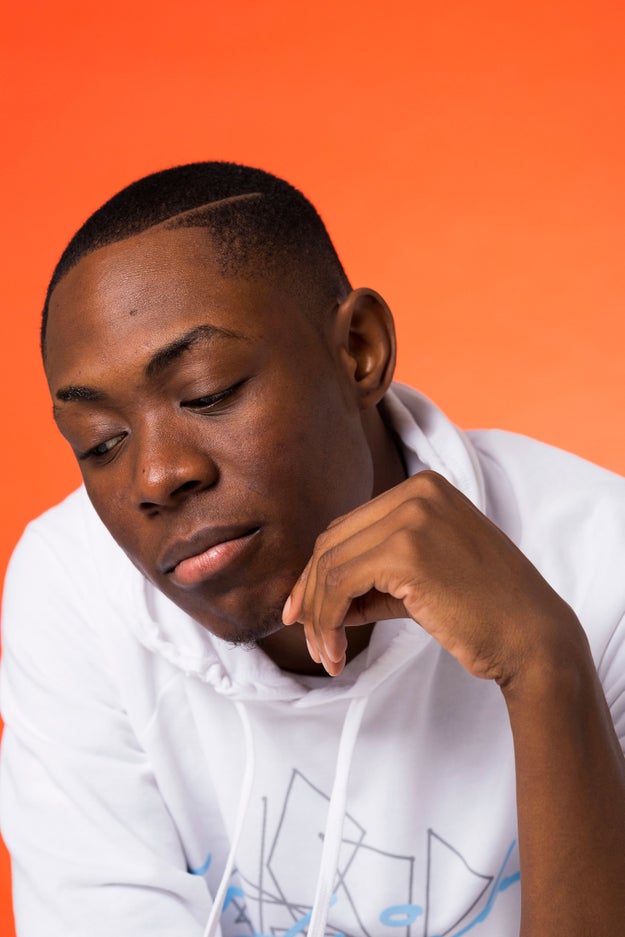 Laura Gallant / BuzzFeed
One Acen
One Acen is lively – he walks into the room with a smile planted on his face and you can't help but smile back. This air of playfulness and banter shows through his music. "It's not hard to be authentic in this industry," he says." I just think people are scared to be who they are. I was scared to be who I was in a way. I used to do grime, and I didn't dance in my videos, or sing like I do now. But because I thought I wasn't going to blow, I just thought I would do me. And that's when things picked up. It turns out people liked me for me."

His latest track, "Verified", is the perfect example of his sound: It's catchy, and a great fusion of R&B and Afrobeats. "I make melodic music. I would say I am doing new-school R&B. We have people like Angel and Shakka who are also doing a form of new-school R&B; it's not straight R&B but it's definitely based on it. R&B songs used to have rapping in them anyway, so I am the rapper and the singer now. It's a new wave."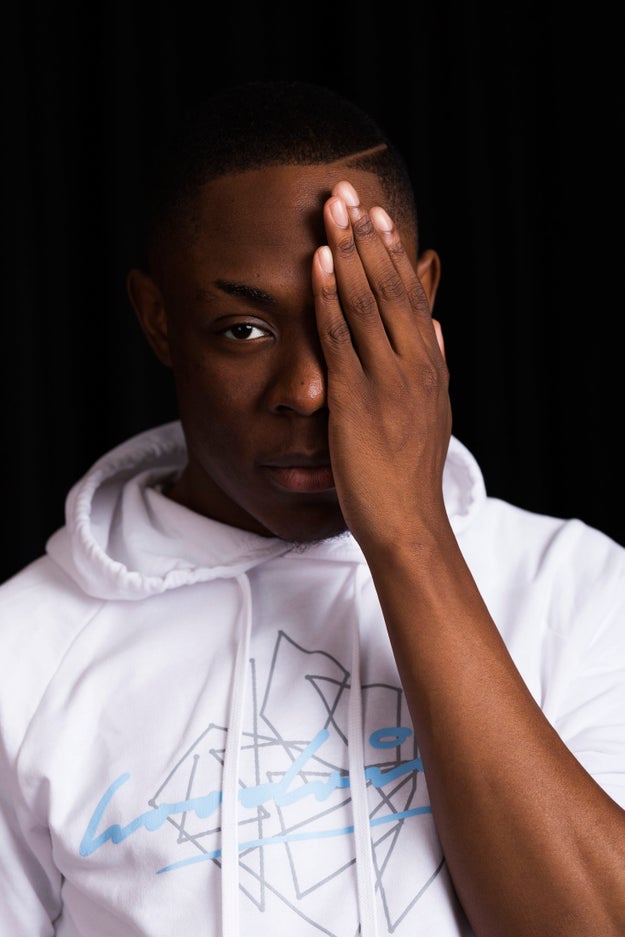 Laura Gallant / BuzzFeed
One Acen has been making music for 10 years now, but it wasn't until last year that he got his big break, with the help of Twitter. "Social media is my career. I can put out a 20-sec clip of my video and get thousands of retweets and that could turn into thousands of views. Twitter, Link Up, and GRM Daily changed my life. I put my music there and people that like UK music will see it. It allows me to penetrate the scene."

Asked about the current state of UK music, he says: "The scene is great at the moment and it's full of good competition. You have songs like Kojo Funds, "My 9ine", which I think is one of the best UK tracks, and we have artists like Giggs, J Hus – artists that stay true to themselves.
"The competition is good, I like competition. My music is only as good as it is because I had to get better to stand out. When there was no competition no one was getting better."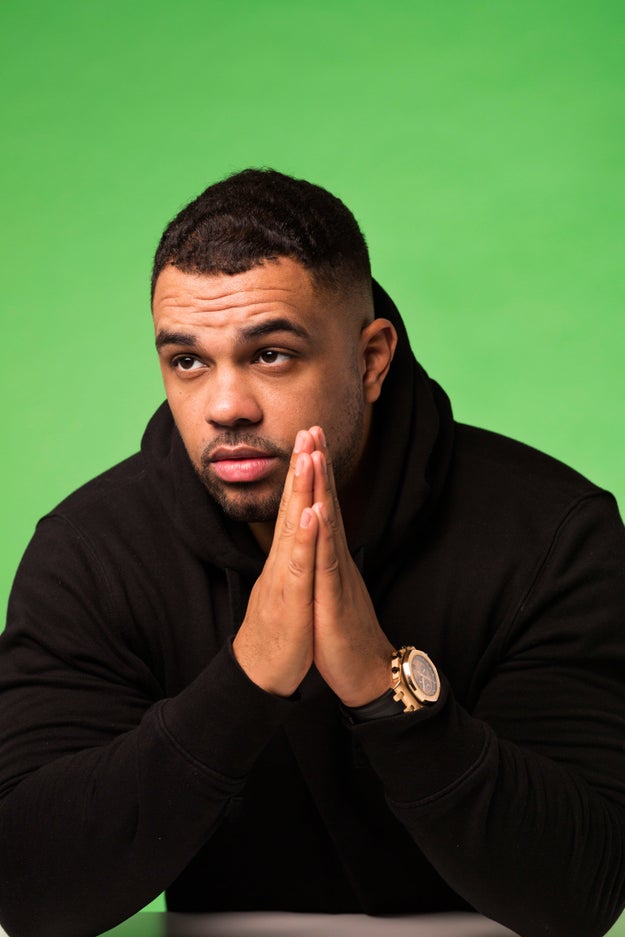 Laura Gallant / BuzzFeed
Blade Brown
Blade Brown is a rapper who commands respect. His impressive catalogue and strong underground releases prove that he is undoubtably one of the top UK rappers. "I make unapologetic trap music," he says. "That's my sound: I speak on raw life experiences, I speak on trapping. From the start of my music career to my work on Bags and Boxes my music stays true to my core fans."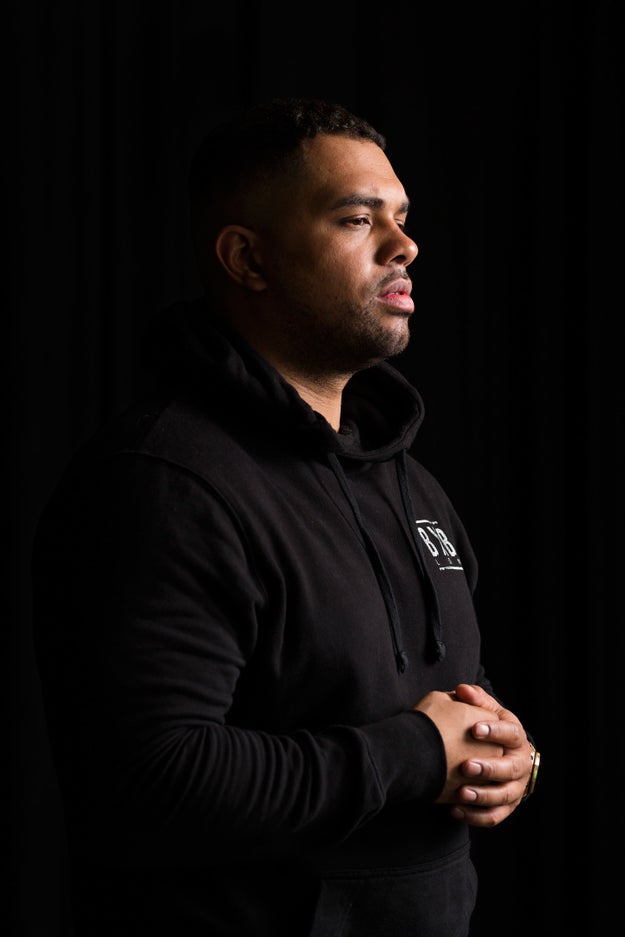 Laura Gallant / BuzzFeed