Ocean blue eyes looking in mine… ♬
ICYMI, Taylor Swift just dropped the third single from her upcoming album, Reputation. It's called "Gorgeous", and I've already listened to it about 3,000 times.
The song is about meeting someone new and being so overwhelmed by how pretty they are that you can barely even talk to them. Oh, and you already have a boyfriend. Scandalous!
Now, if you're a fan of Taylor's, you'll know that she never actually confirms who or what her songs are about when it comes to relationships.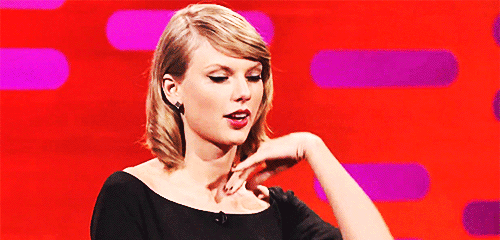 The closest she's come to 100% confirming something was back in 2010 with "Back to December". That song is widely believed to be about Taylor Lautner, because the hidden message in the song's liner notes read "TAY".
BBC / giphy.com
HOWEVER, despite promising us that "there will be no explanation" this era, it seems like Taylor just explained exactly who this song is about, and it's totally adorable.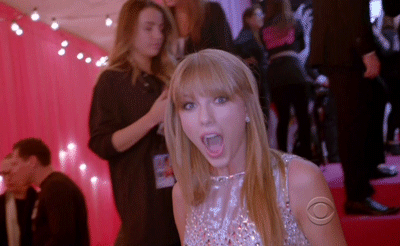 CBS / giphy.com
And after staying totally silent on the relationship for the last few months, it looks like Taylor has confirmed that "Gorgeous" is about Joe.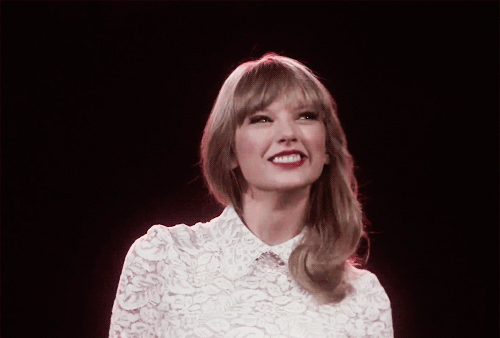 And according to those fans, Taylor straight-up told them that the song is about "her angel boyfriend of one year", and that they should spread the word.
And judging by the song's lyrics, she's seriously fallen for him.

Genius / genius.com
And if that wasn't enough, she's also liked a bunch of seriously cute Tumblr posts about the references to Joe in the song.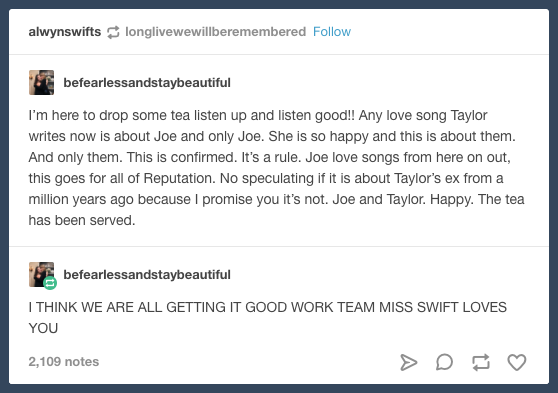 Tumblr / alwynswifts.tumblr.com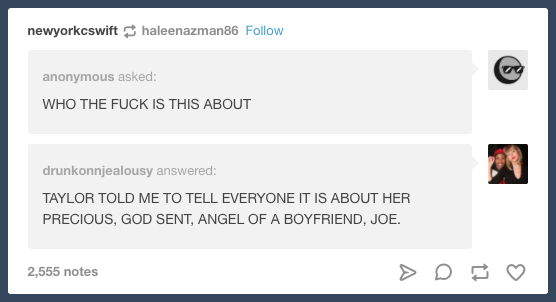 Tumblr / newyorkcswift.tumblr.com

Tumblr / surprisedswiftt.tumblr.com
In case you're wondering, people are also freaking out because the song seems to throw some shade at Taylor's ex, Calvin Harris.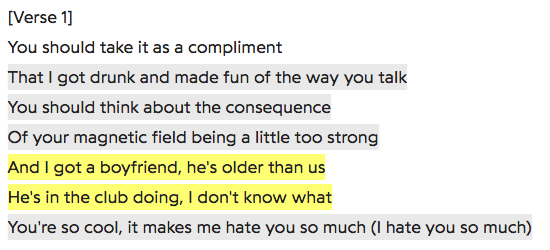 Fans have speculated that Taylor started hinting at the title of this song as far back as 2015 – which is when she was dating Calvin.
Genius / genius.com
Oh, and she liked posts on Tumblr about that, too.
☕️☕️☕️
In conclusion: Reputation is being released in THREE WEEKS and there will be 12 brand-new songs for us to analyse, so GET YOURSELVES READY.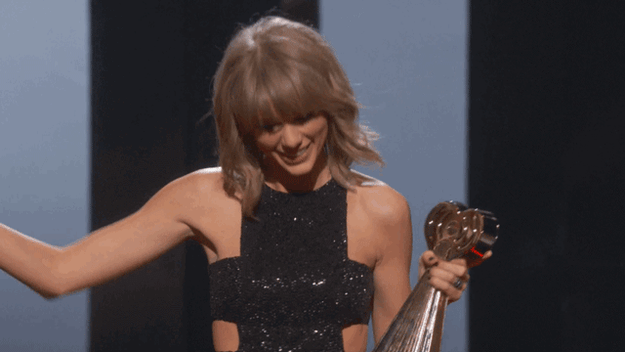 TBS